R&K Certified Roofing of Florida, Inc
We are a reputed Palm Coast Contractor you can rely on for professional roofing services such as roof repairs, roof replacement, or hail and storm damage.
Palm Coast, Flagler beach experiences heavy yearly rainfall and strong winds that often cause trouble to commercial and residential properties. We are expert Palm Coast roofing contractors and know that Florida's changing climate and harsh coastal winds can have a damaging impact on not only the windows, and sidings of your home but also roofs.
The weather conditions in the area of Palm Coast, Florida can reduce the lifespan and durability of the roof if proper measures are not taken.  Older roofs often fall prey to heavy rainfall and strong winds which can cause interior damage from water intrusion.
Locally Owned | Insured | Licensed
Your Dependable Roofing Palm Coast Contractor
At R&K Roofing, we work with competent and skilled roofers in Palm Coast who know how to keep your roof maintained and upscaled without compromising its quality. Whether your roof is broken due to storm damage or experiencing minor leaks, you can count on R&K Roofing for all roofing in Palm coast and roofing in Flagler Beach to receive the best service in town.
As veteran roofers in Flagler County and Volusia County, we know how challenging it is to find a reliable roofing contractor. As a homeowner, you must choose the right roofing contractor to make your roofing project hassle-free. Though you have plenty of options available in the area, no other company can facilitate you as the best Roofing Palm Coast Contractor like R&K can. With our years of experience and roots in the region, we are confident and sure that we can take care of and resolve all your roofing issues with the excellent services we offer. From providing on-time roof inspections to diagnosing the roof issues to fixing them, we can deal with everything.
For decades, R&K Roofing has been offering highly dependable roof repairs and maintenance in the region. The Palm Coast roofer is not only popular for its excellent services but also competitive 100% financing and pricing structure.
Our qualified Ormond Beach FL roofers have an in-depth understanding of the various roof systems installed on Holly Hill homes.  Choosing to replace your roof with our Ormond Beach FL roofers is a sound way to ensure you are getting the best value, best materials and best installers in the business.
Did you know that clay tile roofing can last decades more than fiberglass asphalt shingle roofs?   Clay tile is energy efficient and is more durable and versatile, saving you money down the road.   Weight can be a factor so contact our team to discuss if this is an option for your home or business.
Fiberglass asphalt shingle roofs are a great option.  They are considered energy efficient, and often recyclable as they can help to reflect solar heat (depending on color). That means, installing these kinds of roofs will help you reduce cooling costs.
These qualities, when coupled with the right installation services like R&K Roofing, make roofs more energy efficient and increase the market value of a house.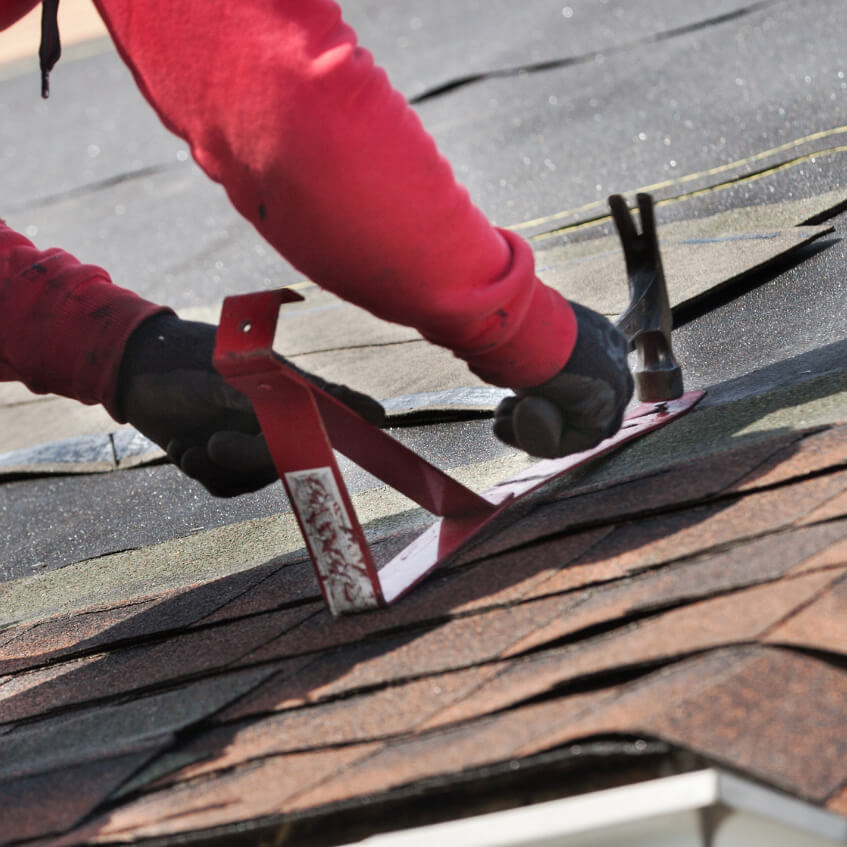 Excellent Commercial and Residential Palm Coast Roofer in Your Area
R&K Roofing, as a first-grade residential Palm Coast roofer, provides a comprehensive range of services in the region. Our team of licensed roofers believes in offering the best services to help you repair or replace your roofing. Our committed Palm Coast Roofing team is an out-and-out expert in offering budget-friendly solutions to the owners of residential and commercial properties. We can even use highly developed techniques to restore the appearance, safety, and integrity of your roof.
R&K Roofing is one of the roofing service providers that are extraordinarily dedicated to roofing repairs and replacement. Our roofers are knowledgeable, skilled professionals who have helped many homeowners in Palm Coast get the long-term solution to their roofing problems. More importantly, we're a residential Palm Coast roofer that's incredibly devoted and passionate about providing the right solutions to homeowners. You can check out our recent roofing project to see how we ensure 100 percent customer satisfaction.
At R&K Roofing, we value building lasting relationships with our clients. Typically, we begin the project by inspecting the roof damage thoroughly to determine the severity and amount of work required to fix it.
Your satisfaction is what matters to us the most
Right Toolkit and Hi-Tech Maintenance Techniques
Reasonably Priced Roofer Palm Coast FL for Repair and Maintenance Service
Your roof is one of the most vulnerable parts of your house that experiences wear and tear and damage as weather changes. During harsh weather, it can suffer a range of cracks and minor damages that can lead to structural problems if you don't treat them on time. When you contact our Palm Coast FL roofers for a free inspection and then repair services, we detect the issues your roof may be experiencing. Our qualified roof inspection and repair team can quickly fix many problems and makes sure that the roof remains in an ideal condition.
Our professional maintenance expert checks the condition of your roof to improve its appearance and lifespan. We use the right toolkit and hi-tech maintenance techniques to address the problems your roof has. A meticulous inspection process allows our team of roof specialists to catch even minor issues in time and resolve it right away.
Our roofing contractors are known as the best Roofer in Palm Coast Florida. They specialize in roof maintenance and preservation and have the right set of skills to protect any residential and commercial property from expensive damage throughout the year.
Reliable Gutter Maintenance and Repair
Best Roofing Companies in Palm Coast Florida for Gutter Maintenance
Installing proper gutters is extremely important and has a myriad of benefits. Unfortunately, many homeowners do not consider the importance of installing a rain gutter unless it has already caused the house substantial damage.
As one of the reliable roofing companies in Palm Coast, we know that natural elements such as heavy rainwater often leave a damaging impact on the home. Properly installed rain gutters can save houses from water damage both at the roof level and at the ground. In fact, they are vitally important to keep the overall foundation system in good condition.
Our roofing team has extensive experience in maintaining the components of the house that make it vulnerable to structural damage from rainwater. Without gutters, a greater quantity of water will flow off the edge, and driving winds can blow it against the exterior wall creating opportunities for damaging the exterior walls of your house. If this penetrates the exterior skin of the building, it can cause a lot of damage.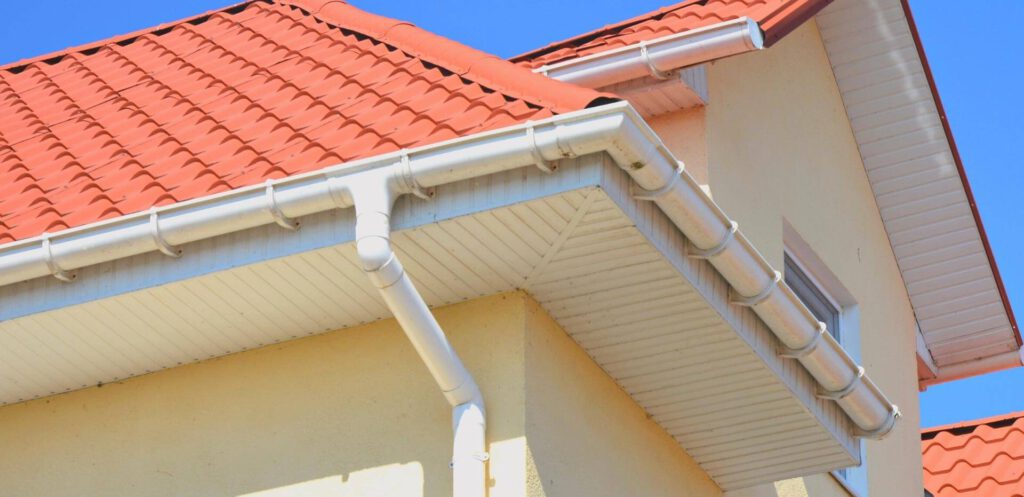 At R&K Roofing, we focus on installing and repairing gutters to keep your drainage system seamless on your roof edge. Our team properly fastens the gutters to fascia's and install proper downspouts to the exterior to route rainwater to its desired location at grade.
Professional Gutter Services
impeccable gutter installation and repairs
Roofing companies in Palm Coast like us also make sure that your gutter doesn't hold standing water, or leak at their joints and seams.  We slope both new and existing gutters to drain properly. Hiring a roofing contractor from R&K is an ideal way to get your gutters professionally installed.
Looking for a reliable financing option? We have 100% financing for qualified property owners. Contact us to find out how you can qualify for a roof replacement even if you have less than optimal credit.
Other than those, our roofing specialists have extensive knowledge and understanding of different types of gutters for all of your Palm Coast home needs. Our professionals help you select the gutters that fit the needs, size, and aesthetics of your home.
Once we are done with the initial inspection process, and a contract is signed, we can often immediately start working on the roof to prevent further damage. Our experienced roofers know that delaying roof maintenance tasks can result in hefty and costly repairs. 
Whether your home needs trustworthy gutter repair services or requires gutter replacement services, you can call our experts. We have become one of the top Palm Coast Roofing companies in Palm Coast over years for offering impeccable gutter installation and repairs.
With our services, you can prevent;
Local Flagler County Roofing near Me
You don't repair or replace your roof often
You don't repair or replace your roof often. Therefore, you need to take certain aspects into account before making this costly investment. However, when you trust R&K Roofing which is a reputed local Flagler County Roofing near you, you can rest assured that your roof is in safe hands.
We serve you as a go-to partner when it comes to making an educated decision regarding roof repairs, maintenance, or replacement.
Get in touch with R&K Roofing's qualified roofers in Flagler County, FL to inspect your roof or determine if it requires repairs or replacement. Count on our professional roofers to choose the roofing system that fits your needs the best and gives you safe shelter for a long time.
We are an expert Flagler County Roofing service that can recommend you replacement after carefully determining the current condition of your roof. Your safety is the foremost priority for our roofing specialists. That is why we make sure we adhere to the quality standard of roof installation and repair service to provide you with the best result.
We take pride in offering credible palm coast roof repair service in the region that sets us apart from other roofing companies and ensure homeowners that we are just a call away when they need us. We are an insured company and offer fully equipped services with the latest and high-tech tools. We have more than 30 years of experience in providing our clients with quality and dependable palm coast roof repair.
We have a sound reputation as an industry pioneer. Homeowners in Palm Coast consider us as one of the most dependable roofing services.
Call us today to explore more about the palm coast roof repair and replacement we offer
In addition to that, it can be risky for the integrity of your home in Florida. Damages like small roof leaks, and cracks can turn into bigger problems and compromise the overall integrity of your house. This is one of the reasons why our residential Palm Coast roofer strives to find the best and fastest solution to fix your roof.
Our full range of services at R&K Roofing includes;
st augustine roofing company
In need of a reliable Roofing Companies St. Augustine, FL for Inspection and Repair Services?